USA 4G SIM Card.
Local Rates and Data in the US
Plan Highlights
Rates & Coverage
Terms & Conditions
Rates & Airtime
Local Calls: 9c/min
International Calls: from 19c/min
Send/receive text messages: 9c/message
$10 Airtime Included
Features & Support
Unlimited Calls and Texts nationwide for $39
Unlimited Calls and Texts with 1GB 4G Data nationwide for $59
Standard, Micro and Nano SIM cards available
Calls to customer service and voicemail: free!
Summary
Travelers to the USA can't do better than our prepaid US SIM card. Call and text for just 9c per minute/SMS and surf the web at 4G speeds when you want to go online. Recharging your credit is as easy as using our Travel app or making a call, and to make the most of our low rates, take advantage of our unlimited call, SMS and data bundles.
Please Note:
This SIM card will require a SIM-unlocked GSM 850 / 1900 compatible international cell phone. If you do not have your own international cell phone, you can add one of several models to your order during check out.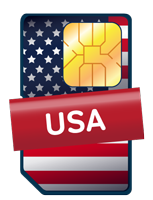 Rate Finder
Find the rates for calls, texts and data for a specific country
Go