The Iridium 9555 is not only the smallest phone Iridium has ever made, it is also the most powerful. With a significantly reduced footprint from our previous phone, more hand-friendly form factor, and aerodynamic features such as an internally stowed antenna.
From distant rigs to pitching decks, baking deserts to frozen ice packs, the Iridium 9555 satellite phone can handle any environment. It is small but determined, sleek but industrial grade, easy to use but powerful. It is every bit as rugged as previous Iridium handsets - still resistant to water, dust and shock - but streamlined and packed with innovative new features.
The Iridium 9555 is the ultimate in dependable mobile communications. It is a ruggedly built tool, not a toy. It won't play games, take pictures, or play MP3s. What it will do is work. Everywhere. Without exception. It is engineered to withstand the world's toughest environments, so the world's toughest customers can depend on it as a critical lifeline whenever and wherever need takes them.
Highlights
Worldwide coverage from pole to pole
Tested, reliable and trusted handset for the professional user
Free Incoming Calls
Text Messaging (Free Incoming)
24 hour technical support
Optional "Two Stage" Dialing feature gives callers the convenience of a US phone number when calling you
Outgoing Call Rate: $1.39 per minute from anywhere in the world
Voicemail
Data connection ready (requires USB to Mini USB Cable and software - included in your kit)
1 Year Warranty (includes parts and labor)
Our Recommendation: You should get this phone if you need a proven handheld satellite phone with full global coverage and weight and data capability are important factors
Coverage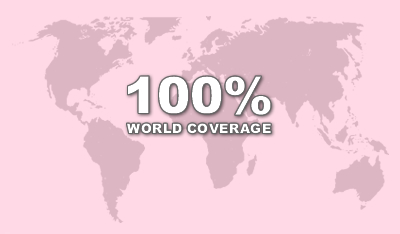 This map depicts Iridium's expectations of coverage. This map does not represent a guarantee of service.
Iridium complies with US embargo restrictions and as a result the following countries may not permit the use of Iridium Satellite phones or coverage may not be available: Cuba, Iran, North Korea. For some countries a permit is required in order to possess and operate a satellite phone, i.e. China, India, Myanmar. Please check either with the state department or local authorities if a permit is required.