The Sabre Terminal for BGAN offers both voice and data connectivity in a small, ultra portable device.

The terminal comes with standard LAN, bluetooth and phone interfaces, making the terminal easy to set up and operate. Connect your laptop to the terminal and connect seamlessly and secure via your preferred VPN application.
Highlights
Simultaneous voice and data communications
High-speed data transfer up to 384 kbps
Seamless global coverage
Support for streaming IP at 32, 64 kbps
Standard LAN, Bluetooth and phone interfaces
Easy system setup and operation
Lightweight, splash and dust proof design
Robust, reliable and durable design
Coverage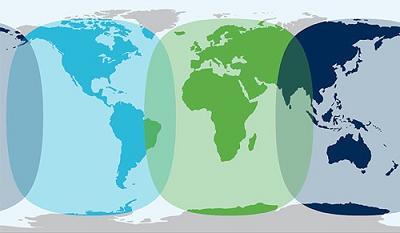 This map depicts Inmarsat's expectations of coverage . This map does not represent a guarantee of service. The availability of service at the edge of coverage fluctuates depending on various conditions.
Inmarsat complies with US embargo restrictions and as a result the following countries may not permit the use of Inmarsat satellite phones or coverage may not be available: Cuba, Iran, North Korea. For some countries a permit is required in order to possess and operate a satellite phone, i.e. China, India, Myanmar. Please check either with the state department or local authorities if a permit is required.