North America SIM Card
Low rates all across North America
The SIMple Calling SIM card offers low rates for calls, texts and data all across the US , Canada and Mexico
| Calling from | Make or Receive a local call - first minute | Make or Receive a local call - after the first minute | Send a local SMS text message | Receive a local SMS text message |
| --- | --- | --- | --- | --- |
| United States | US$0.58 | US$0.09 | US$0.15 | US$0.10 |
| Canada | US$0.68 | US$0.19 | US$0.15 | US$0.10 |
| Mexico | US$0.68 | US$0.19 | US$0.15 | US$0.10 |
All rates quoted in US dollars. You are billed in 1 minute increments.
1 A USD 49c connection fee applies to each call made or received on your US number when in the USA and Mexico.
2 The cost of calling a cell phone in the United States is the same as calling a landline. 3 A per minute surcharge applies to call some non-key countries. View applicable countries
4 It is FREE to receive calls and text messages on your Global number in the USA.
The US SIMple Calling SIM Card offers international calls as low as $0.09/min!
To find the rates for a single country, please use our

Using our service in Canada
Our Canada Service works on the Bell Mobility and Telus networks, which have 3G frequencies of 850 and 1900MHz. Phones that have these frequencies include: iPhone (5, 4S, 4, 3GS, 3G), Samsung Galaxy SIII, SII and Note, Nokia N8, and any Smartphones purchased from AT&T in the United States. If your phone does not have one of these frequencies, it most likely will not work in Canada.
zEOL - United States North America Highlights:
Make calls: from $0.09/min local & from $0.09/min international
Receive calls: from $0.09
Send text messages: from $0.15
Receive text messages: $0.10
Prepaid Data: from $0.49/MB
Get up to 200% more Data with Data Bundles
Credit: $10.00
zEOL - United States North America Key Features:
Comes with a Global +44 & US +1 phone number
No pre-departure activation necessary
24/7 Customer Service
Prepaid, so no contracts, monthly fees or bill shock
Real time online call records and recharge receipts
Easy to set up forwarding of your existing number
Recharge via phone, web, or enable Auto-Recharge
Best expiry terms of any prepaid US service
Standard, Micro & Nano SIMs available for all devices
Where are you traveling?
Select or enter the country you are traveling to to find the right SIM card.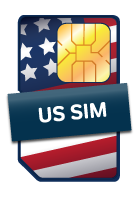 Rate Finder
Find the rates for calls, texts and data for a specific country
Go