Europe SIM Card
Low rates all across Europe
The Passport Europe SIM card offers low rates for calls, texts and data all across Europe and beyond. To find the rates for calls, texts and data for a specific country, please use our

If you are looking for domestic SIM cards, please use the map below for the different local SIM cards we offer.
Passport Europe Highlights:
Make calls: from $0.49/min
Receive calls: FREE in over 85 countries!
Low connection fee: $0.39
Send text messages: from $0.39
Receive text messages: as low as FREE
Prepaid Data: from $0.49/MB
As low as $0.16/MB with Data Bundles
Credit: $10 included
Passport Europe Key Features:
Comes with a Global +44 & US +1 phone number
Prepaid, so no contracts, monthly fees or bill shock
Real time online call records and recharge receipts
24/7 Customer Service
Easy to set up forwarding of your existing number
Recharge via phone, web, or enable Auto-Recharge
Standard, Micro & Nano SIMs available for all devices
Where are you traveling?
Select or enter the country you are traveling to to find the right SIM card.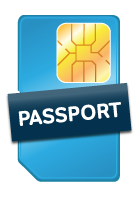 Rate Finder
Find the rates for calls, texts and data for a specific country
Go